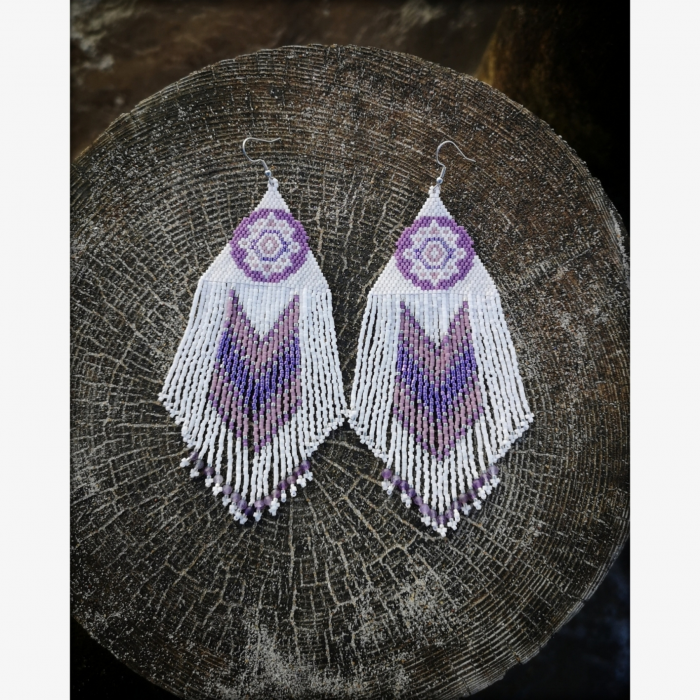  
Sahasrara Crown Chakra Earrings with Amethysts
Crown Chakra - Sahasrara symbol earrings made of high quality Miyuki delica beads and amethysts. Earrings have stainless steel hooks. Original design.
The Sahasrara, or crown chakra, the highest chakra, sits at the crown of the head and represents our ability to be fully connected spiritually. When you fully open your crown chakra—something very few people ever do!—you're able to access a higher consciousness.
*
Check out the high resolution photo.
*
Length 5.51in / 14 cm
Width 1.77in / 4.5 cm
*
PROPERTIES OF STONE
AMETHYST is a powerful and protective stone.  It guards against psychic attack, transmuting the energy into love and protecting the wearer from all types of harm, including geopathic or electromagnetic stress and ill wishes from others.  Amethyst is a natural tranquiliser, it relieves stress and strain, soothes irritability, balances mood swings, dispels anger, rage, fear and anxiety.  Alleviates sadness and grief, and dissolves negativity.  Amethyst activates spiritual awareness, opens intuition and enhances psychic abilities.  It has strong healing and cleansing powers.  Amethyst encourages sobriety, having a sobering effect on overindulgence of alcohol, drugs or other addictions.  It calms and stimulates the mind, helping you become more focused, enhancing memory and improving motivation.  Amethyst assists in remembering and understanding dreams.  It relieves insomnia.  Encourages selflessness and spiritual wisdom.
*
Pre-ordered products are shipped within two weeks of receipt of payment.
*
Feel free to contact me with any questions, doubts or to discuss a custom order.
Thanks for visiting my shop.
Customers who bought this product also bought: