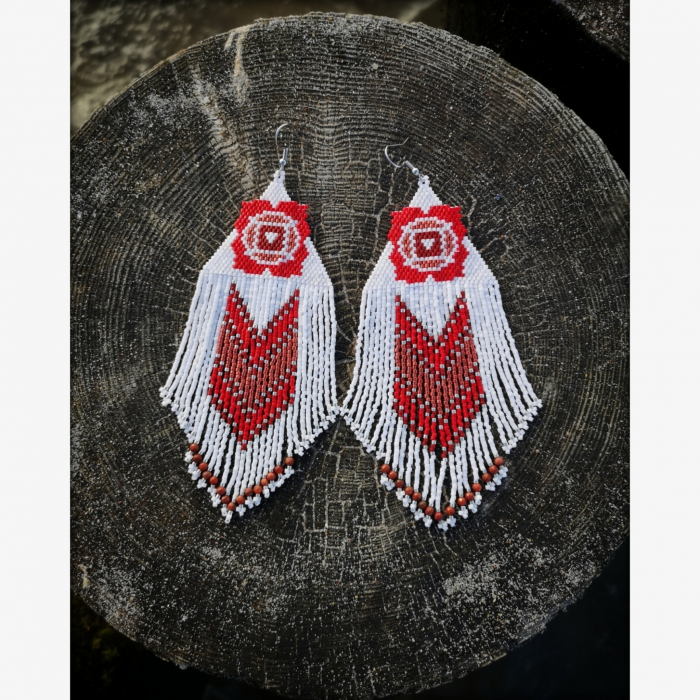  
Muladhara Root Chakra Earrings with Red Jaspers
Root Chakra - Muladhara symbol earrings made of high quality Miyuki delica beads and red jaspers. Earrings have stainless steel hooks. Original design.
The Muladhara, or root chakra, represents our foundation. On the human body, it sits at the base of the spine and gives us the feeling of being grounded. When the root chakra is open, we feel confident in our ability to withstand challenges and stand on our own two feet. When it's blocked, we feel threatened, as if we're standing on unstable ground. 
*
Check out the high resolution photo.
*
Length 5.51in / 14 cm
Width 1.77in / 4.5 cm
*
PROPERTIES OF STONE
RED JASPER is gently stimulating and also an extremely protective stone. It can neutralise radiation and other forms of environmental and electromagnetic pollution.  Red Jasper rectifies unjust situations and grounds energy.  Brings problems to light and provides insights into difficult situations.  An excellent "worry bead", Red Jasper calms the emotions.  Aids in dream recall.  Cleans and stabilises the aura.  A stone of health, Red Jasper strengthens and detoxifies the circulatory system, blood and liver.
*
Pre-ordered products are shipped within two weeks of receipt of payment.
*
Feel free to contact me with any questions, doubts or to discuss a custom order.
Thanks for visiting my shop.